News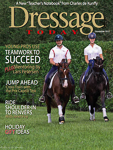 Sagacious and Friends On Dressage Today Cover.
October 2012
Wellington, FL - Wellington, FL - October 2012: Sagacious and Caroline Roffman and Aga and Endel Ots appear on the cover of the November 2012 issue of Dressage Today. Click here to view the cover. This is another photograph by Sue Stickle.
---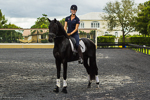 Etoine Arrives in Wellington.
October 5, 2012
Wellington, FL - The 2012 KWPN Stallion Licensing Champion, Etione (Vivaldi x Balzflug x Amor), arrived in Wellington today after a flight from Amsterdam to Miami and then a few days in USDA Quarantine. He will stay in a private quarantine facility here in Wellington along with 2 mares. Once he has been released from quarantine, he will come to Lionshare Dressage where Caroline Roffman will have the ride. Etione's name has been changes to Emeici. See Euro Dressage article about Etoine.
---
Sagacious Nicely Settled in at Lionshare Dressage.
August 2012
Wellington, FL - August 2012: Hyperion Farm's Sagacious HF, has settled in nicely at Lionshare Dressage. For more information, see the article on our Facebook Page
---
Caroline Roffman has the Ride on Sagacious.
August 2012
Wayne, IL - Caroline Roffman of Lionshare Dressage, now has the ride on our Sagacious HF. See more information on Dressage-News.com article
---
Caroline and Hanna Win PSG Developing Horse.
August 2012
Wayne, IL - Hyperion Farm congratulates Caroline Roffman and Her Highness O (Hanna) for winning the Developing Horse Prix St George at the Lamplight Equestrian Center in Wayne, IL. See more details in a Dressage-News.com article
---
Sabrina has a Colt!.
June 2012
Slatington, PA - Sabrina, a KWPN Keur mare that Hyperion Farm gave to Mo Swanson's Rolling Stone Farm, had a colt by their stallion, Shakespeare. The colt, named Shpades, can be seen on the Rolling Stone website.
---
Sagacious Withdrawn From TOC.
June 2011
Gladstone NJ - Sagacious was withdrawn from the Festival of Champions Grand Prix competition before the second weekend. For more information see an article on
Dressage-News.com... and The Chronicle of the Horse...
---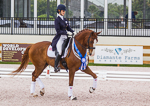 Caroline Roffman Ties Up Season with a Gold Medal at the CDI Nations Cup and Looks Toward the Future.
April 2011
Wellington, FL - April 18, 2012 -Caroline Roffman has a stellar beginning to 2012, with wins across the small tour and developing horse divisions at prestigious shows on the Florida dressage circuit and most recently a gold medal at the Nations Cup CDI. At the Global Dressage Festival Nations Cup, Team USA took the gold, and Roffman's score of 70.050% on her own Pie put her in second and was a strong contribution towards the medal.
Read more...
---
MVP Moves to Lionshare Dressage.
April 1, 2012
Wellington, FL - MVP has moved into Caroline Roffman and Endel Ots' Lionshare Dressage. Al Guden is training with Endel Ots, who was the alternate on the 2011 Pan American Team. For more information about Endel, see the Lionshare website.
Read more...
---
Emergency Medical Center Locator (EMCL) released for the iPhone and iPad
November 9, 2011
Dr. Bruce Moskowitz, my PCP, has just released EMCL, a free iPhone and iPad app. The EMCL App helps you find the specialized emergency medical center closest to you. There are six specialty areas in the EMCL app: Trauma, Stroke, Eye, Pediatric, Cardiac, and Burn. Only the most advanced and state of the art emergency care facilities with improved patient outcomes are included within the app. Some emergency rooms do not meet their criteria of having proven diagnostic and treatment capabilities in their care speciality with the most experienced staff.
Read more...
---
Sabrina's New Home in PA
July 21, 2011
Our KWPN mare, Sabrina (by Ronaldo) has retired from the show ring and will return to breeding at Mo Swanson's Rolling Stone Farm in Slatington, PA. Mo has bred Sarbrina to her stallion, Shakespear RSF. Sweet Sabrina, enjoy your new home and your new owner!
---
Sagacious Earns KWPN Crowne Predicate
Jun 7, 2010
Al Guden's 11-year-old Grand Prix KWPN gelding, Sagacious HF, recently earned Crown Predicate honors from the KWPN (Dutch) Registry. This special symbol on his registration papers means he is ranked in the top 200 FEI Dressage Horses in the world. Sagacious HF was actually ranked 56th in the world.
---