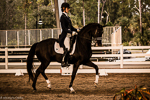 Sagacious HF
Sagacious is a KWPN (Dutch Warmblood) gelding born in 1999, owned by Al Guden of Hyperion Farm, Inc. of Wellington, Florida. Sagacious was purchased as a weanling in Holland in 1999 and imported to the USA in 2004.

Sagacious recently earned the Crown predicate from the KWPN (Dutch) Registry. Crown means the gelding is ranked in the top 200 FEI Dressage Horses in the world; ranking 56th in the world when the award was made in June, 2010.

Sagacious was a member of the US Dressage Team that won a Gold Medal at the 2007 Pan American Games in Rio de Janeiro in the Prix St George, and won the Individual Silver Medal for the US.
In 2009, they made the successful transition to the Grand Prix, winning 10 out of 12 CDI competitions entered.

Caroline Roffman began riding the horse in June of 2012. The ride was taken over by Chase Hickok in March of 2014. Chase and Sagacious won the Brentina Cup - the Under 25 Grand Prix Championship - in 2015.

Click here to view Sagacious' scores and videos.

Click here to view Caroline and Sagacious' photo galleries.